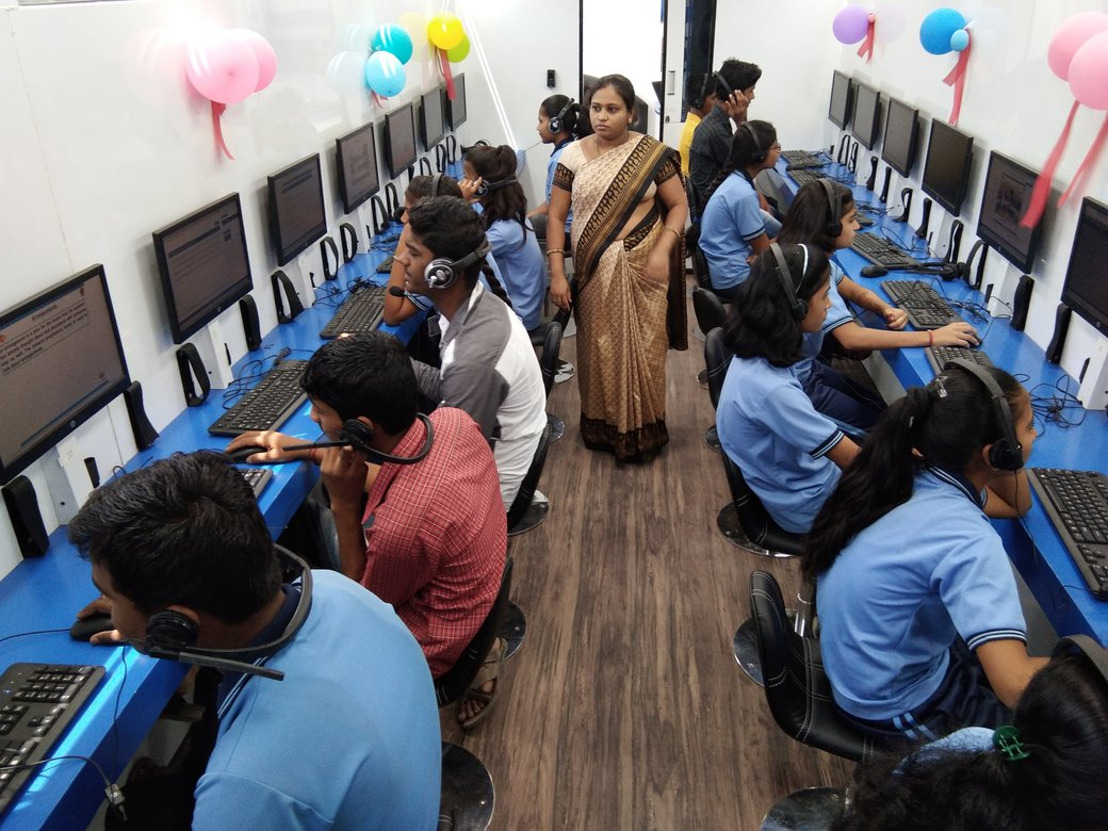 HP Inc. streeft ernaar rond 2025 het onderwijs te verbeteren voor 100 miljoen mensen
Het bedrijf gaat meer dan €17 miljoen investeren in het verbeteren van het onderwijs, om bij te dragen aan het doorbreken van de armoede in minderbedeelde gemeenschappen.
Vrijdag 7 juli 2017 — Higlights:
- HP besteedt meer dan € 17 miljoen aan technologie, training, onderzoek en ontwikkeling, en ondersteunt daarmee benodigde financiering om betere leerresultaten te realiseren voor 100 miljoen mensen binnen tien jaar (vanaf 2015 tot en met 2025)
- HP blijft zich inzetten voor kwaliteitsonderwijs aan mensen in minder bedeelde gemeenschappen met behulp van hun programma's HP LIFE, HP World on Wheels en HP Learning Studios
- HP werkt samen met regeringen en beleidsmakers om scholing en werkgelegenheid met elkaar te verbinden
HP Inc. kondigde tijdens het 2017 Global Citizen Festival in Hamburg aan dat het bedrijf zich gaat inzetten om leeruitkomsten voor meer dan 100 miljoen mensen te verbeteren tussen 2015 en 2025. Dit jaar valt het festival op de vooravond van G20 Summit, waar wereldleiders elkaar ontmoeten om duurzame ontwikkelingen te bevorderen. HP's toewijding ondersteunt het vierde duurzame ontwikkelingsdoel van de Verenigde Naties om toegang tot onderwijs van hoogstaande kwaliteit en levenslang kunnen blijven leren voor iedereen in het klaslokaal en daarbuiten te verbeteren. Dit is beschreven in het recentelijk gepubliceerde HP duurzaamheidsverslag van 2016.
Voor honderden miljoenen mensen die momenteel geen basisvaardigheden aangeleerd krijgen, kan kwaliteitsonderwijs bijdragen aan het doorbreken van armoede. HP richt zich op de herontwikkeling van het klaslokaal, waarbij de betrokkenheid van de leerlingen wordt vergroot, de leraren in staat zijn beter les te geven en de school zorgt voor een sterke en energieke gemeenschap.
HP creërt innovatieve onderwijsoplossingen voor miljoenen mensen, inclusief diegenen in minderbedeelde stedelijke, plattelandse en vluchtelingen gebieden. Technologische oplossingen en modellen die digitaal onderwijs integreren worden ontworpen en daarnaast biedt HP inzichten waarmee regeringen een effectief ontwikkelingsbeleid voor menselijk kapitaal kunnen creëren.
Hieronder kan je aanvullende Engelstalige informatie vinden.
To increase the reach of HP's education initiatives by 2025, the company will expand programs like HP World on Wheels, which brings digital literacy to rural India through mobile learning labs. HP will also continue to provide refugees in the Middle East with access to personalized, blended learning experiences through six HP Learning Studios, equipped with hardware, software, and teacher training services that together inspires instructional innovation and next-generation learning experiences. HP Learning Studios also drive experiential learning at more than 60 schools in Australia, Canada, New Zealand, the United States, and seven countries in Europe. In addition, HP LIFE, a global e-learning program of the HP Foundation, aims to empower another one million aspiring entrepreneurs by enrolling them in HP LIFE between 2015 and 2025, in support of the broader HP commitment.
Through HP National Education Technology Assessment (NETA), the company is helping ensure that skills match between what schools teach and what employers require. Using a combination of macroeconomic analysis, hyper-local insights and predictive analytics, HP supports governments and policymakers around the world in creating effective human capital development policies and programs, including employer engagement programs.
"HP's efforts to advance quality learning and to support the Sustainable Development Goals are expanding social and economic opportunities for people all over the world," said Nate Hurst, Chief Sustainability and Social Impact Officer at HP. "I'm proud to work for a company that creates and invests in technology that can help teachers teach and students learn while building the skills needed for future success."
"Education has the power to spur innovation, promote the prosperity of communities and empower vulnerable and marginalized groups," said Sarah Brown, Executive Chair, Global Business Coalition for Education. "We commend HP's commitment to enabling every person to unlock his or her potential and develop the talents and acquire the skills necessary for a better, brighter future."
SUSTAINABILITY AT HP
Sustainability serves as a guiding principle for how we do business at HP—fueling our innovation and growth. We engineer with integrity, ensuring all products and operations are based on the highest ethical standards. We are committed to full-circle innovation that improves performance, reduces waste, and powers a circular and low-carbon economy. And we inspire impact, creating opportunities and enabling action to achieve a more just and inclusive society. To learn more about these efforts, visit the HP Sustainability website, and be sure to check out the newly released HP 2016 Sustainability Report, www.hp.com/sustainability.