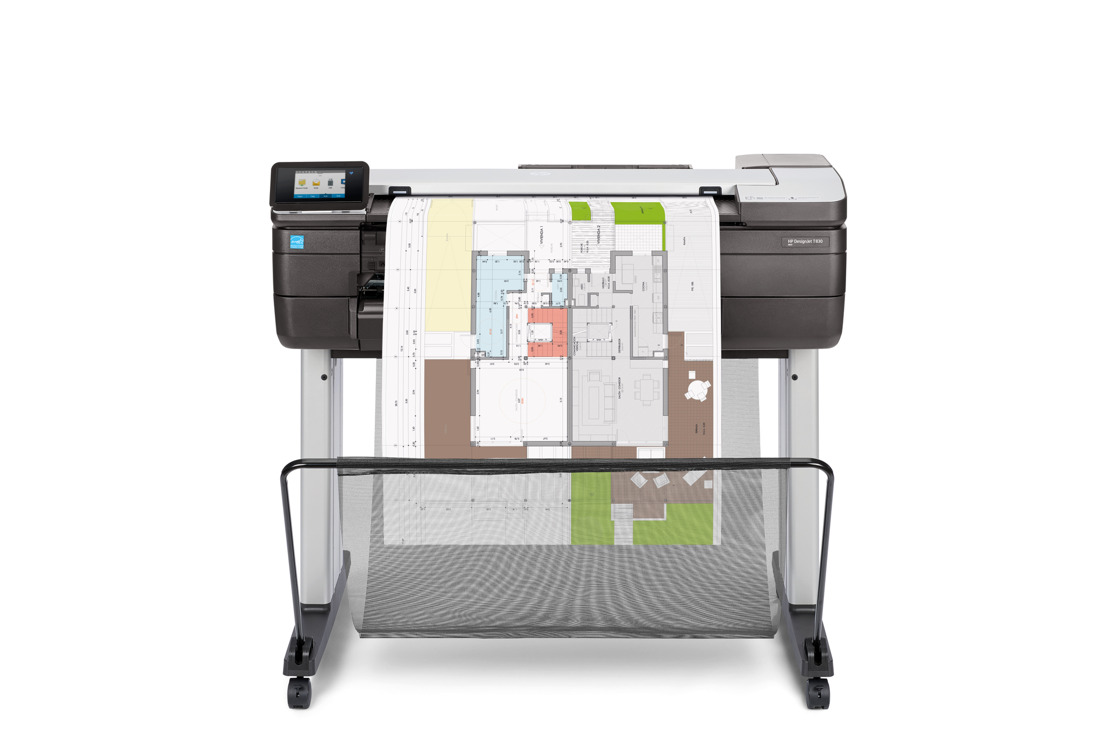 HP lance l'imprimante multifonction HP DesignJet T830 24 pouces
De nouvelles possibilités de collaboration s'offrent aux architectes et constructeurs immobiliers grâce à ce système d'impression, de numérisation, de photocopie et de partage agile
Mardi 14 novembre 2017 —

HP Inc. présente la HP DesignJet T830 24 pouces, une nouvelle imprimante multifonction grand format pour les architectes, ingénieurs et constructeurs immobiliers à la recherche d'un système ultra-compact et polyvalent leur permettant à la fois d'imprimer, de photocopier, de numériser et de partager des plans, pour collaborer en toute transparence sur les chantiers et à distance.

Enrichie du modèle T830 24 pouces, la gamme d'imprimantes multifonction HP DesignJet T830 permet désormais de profiter de la qualité et de la fiabilité des solutions HP DesignJet indépendamment de l'envergure des projets, notamment au travers de la solution MFP la plus compacte du marché.1

« Les imprimantes multifonction innovantes de HP facilitent la collaboration et la communication entre les professionnels. Elles répondent aux besoins de nos clients, qui veulent pouvoir partager des documents facilement, au format papier comme au format numérique », explique Hind Guilleminot, Responsable Marketing HP Large Format Design Printing pour HP France. « Nous sommes fiers de pouvoir offrir nos technologies d'impression les plus avancées aux architectes et ingénieurs. »

La qualité HP DesignJet au service d'une collaboration optimale

Idéale pour les cabinets d'architecte et les bureaux d'études en quête d'une solution compacte, l'imprimante multifonction HP DesignJet T830 24 pouces regorge d'options de communication qui facilitent la collaboration. Elle permet notamment d'imprimer, de numériser, de photocopier et de partager des plans, des calendriers de projets, des rendus, des présentations et autres types de documents en toute simplicité.

Avec la HP DesignJet T830 24 pouces, les professionnels du bâtiment peuvent notamment :
Partager instantanément des comptes-rendus de réunion avec leurs collaborateurs et partenaires. Les impressions au format A1/D ne prennent que 26 secondes maximum.
Imprimer des documents en mode sans fil depuis leur smartphone, tablette ou ordinateur grâce aux technologies Wi-Fi Direct et HP Mobile Printing3.
Numériser des documents pour en faire des copies destinées aux chantiers afin de préserver les originaux.
Photocopier des croquis et des plans annotés à la main pour les distribuer immédiatement aux équipes.
Partager des images par e-mail et les enregistrer dans le Cloud, grâce à l'app HP Smart.
Imprimer facilement des présentations de projet et des documents PDF grâce au logiciel HP Click.
Imprimer des documents au format A4/A3.
​HP Click est désormais disponible sur toutes les imprimantes HP DesignJet T. Ce logiciel permet de réaliser des impressions d'un seul clic, de prévisualiser et d'imprimer des documents PDF de plusieurs pages par simple glisser-déposer et de minimiser la consommation de papier et les coûts d'impression, le tout sans besoin de pilote.
1. The HP DesignJet T830 24-in and 36-in Multifunction Printers are the most compact large-format devices performing print/scan/copy functions based on H x W x L specifications published as of October, 2017.
2. Local printing requires mobile device and printer to be on the same network (usually Wi-Fi access points bridge wireless to wired connections) or have a direct wireless connection. Wireless performance is dependent on physical environment and distance from access point. Wireless operations are compatible with 2.4 GHz operations only. Remote printing requires an Internet connection to an HP web-connected printer. Wireless broadband use requires separately purchased service contract for mobile devices. Check with service provider for coverage and availability in your area. See http://www.hp.com/go/designjetmobility for more details.
Forward-Looking Statements
This news release contains forward-looking statements that involve risks, uncertainties and assumptions. If the risks or uncertainties ever materialize or the assumptions prove incorrect, the results of HP Inc. and its consolidated subsidiaries ("HP") may differ materially from those expressed or implied by such forward-looking statements and assumptions.
All statements other than statements of historical fact are statements that could be deemed forward-looking statements, including but not limited to any projections of net revenue, margins, expenses, effective tax rates, net earnings, net earnings per share, cash flows, benefit plan funding, deferred tax assets, share repurchases, currency exchange rates or other financial items; any projections of the amount, timing or impact of cost savings or restructuring and other charges; any statements of the plans, strategies and objectives of management for future operations, including the execution of restructuring plans and any resulting cost savings, revenue or profitability improvements; any statements concerning the expected development, performance, market share or competitive performance relating to products or services; any statements regarding current or future macroeconomic trends or events and the impact of those trends and events on HP and its financial performance; any statements regarding pending investigations, claims or disputes; any statements of expectation or belief; and any statements of assumptions underlying any of the foregoing.
Risks, uncertainties and assumptions include the need to address the many challenges facing HP's businesses; the competitive pressures faced by HP's businesses; risks associated with executing HP's strategy; the impact of macroeconomic and geopolitical trends and events; the need to manage third-party suppliers and the distribution of HP's products and the delivery of HP's services effectively; the protection of HP's intellectual property assets, including intellectual property licensed from third parties; risks associated with HP's international operations; the development and transition of new products and services and the enhancement of existing products and services to meet customer needs and respond to emerging technological trends; the execution and performance of contracts by HP and its suppliers, customers, clients and partners; the hiring and retention of key employees; integration and other risks associated with business combination and investment transactions; the results of the restructuring plans, including estimates and assumptions related to the cost (including any possible disruption of HP's business) and the anticipated benefits of the restructuring plans; the resolution of pending investigations, claims and disputes; and other risks that are described in HP's Annual Report on Form 10-K for the fiscal year ended October 31, 2015, HP's Quarterly Reports on Form 10-Q for the fiscal quarters ended January 31, 2016, April 30, 2016 and July 31, 2016, and HP's other filings with the Securities and Exchange Commission. HP assumes no obligation and does not intend to update these forward-looking statements. HP's Investor Relations website at http://www.hp.com/investor/home contains a significant amount of information about HP, including financial and other information for investors. HP encourages investors to visit its website from time to time, as information is updated and new information is posted.
© 2017 Hewlett-Packard Development Company LP. The information contained herein is subject to change without notice. The only warranties for HP Inc. products and services are set forth in the express warranty statements accompanying such products and services. Nothing herein should be construed as constituting an additional warranty. HP Inc. shall not be liable for technical or editorial errors or omissions contained herein.