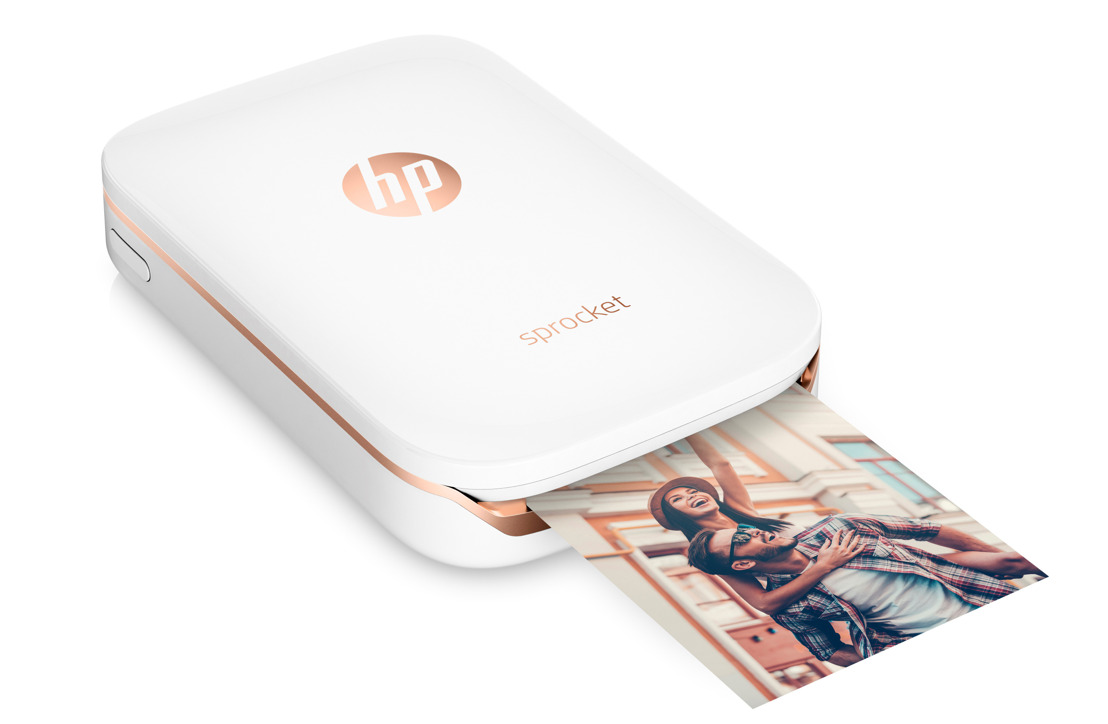 Imprime tes photos n'importe où avec le nouveau HP Sprocket
Imprimante de poche pour ton smartphone
Mercredi 21 juin 2017 —

L'impression fait désormais partie de ta vie sociale ! Le nouveau HP Sprocket est une imprimante de poche avec laquelle tu peux imprimer, coller et partager tes photos n'importe où. Le HP Sprocket rend l'impression encore plus cool et facile : tes photos préférées ne restent pas bloquées sur ton téléphone ou sur les réseaux sociaux mais peuvent être directement imprimées ce qui te permet de continuer à revivre ces souvenirs particuliers.

Le HP Sprocket est pratique et assez petit pour tenir dans ta poche. Les photos sont imprimées via une connexion Bluetooth au smartphone sur un format de 5 x 7,6 cm. Tu peux rapidement donner à chaque photo une touche personnelle avec le HP Sprocket App (iOS et AndroidTM). Ainsi tu rends ton souvenir encore plus spécial avec un texte, un cadre ou un filtre. Le HP Sprocket est l'accessoire parfait pour les vacances d'été.

Le HP Sprocket est disponible en blanc au contour rose-or et en noir au contour argent. Avec le Sprocket, tu reçois aussi un paquet de 10 feuilles de papier photo adhésif HP ZINK afin que tu puisses commencer à imprimer tout de suite. Le Sprocket coûte €149,00. 20 feuilles de papier photo adhésif coûtent €11,99.

Plus d'informations sur le HP Sprocket

A propos de HP

HP Inc. développe des technologies pour améliorer la vie de chacun, partout dans le monde. Grâce à notre portefeuille d'imprimantes, d'ordinateurs, d'appareils mobiles, de solutions et de services, nous créons des expériences d'exception. Pour en savoir plus sur HP Inc., consultez le site à l'adresse http://www.hp.be

Forward-Looking Statements
This document contains forward-looking statements within the meaning of the safe harbor provisions of the Private Securities Litigation Reform Act of 1995. Such statements involve risks, uncertainties and assumptions. If such risks or uncertainties materialize or such assumptions prove incorrect, the results of HP Inc. and its consolidated subsidiaries could differ materially from those expressed or implied by such forward-looking statements. All statements other than statements of historical fact are statements that could be deemed forward-looking statements, including any statements of expectation or belief and any statements of assumptions underlying any of the foregoing. Risks, uncertainties and assumptions include the possibility the company's business may not perform as expected; that the company may be unable to successfully implement separation strategies; and other risks that are described in the company's reports to the U.S. Securities and Exchange Commission, including but not limited to the risks described in the company's Annual Report on Form 10-K for its fiscal year ended October 31, 2014 and the company's Quarterly Reports on Form 10-Q for its fiscal quarters ended April 30, 2015 and July 31, 2015. The company assumes no obligation to update these forward-looking statements.

© Copyright 2016 HP Development Company, L.P. The information contained herein is subject to change without notice. The only warranties for HP products and services are set forth in the express warranty statements accompanying such products and services. Nothing herein should be construed as constituting an additional warranty. HP shall not be liable for technical or editorial errors or omissions contained herein.